---
Detailed Description
ZeroMeanCenterKernelNormalizer centers the kernel in feature space.
After centering, each feature must have zero mean. The centered kernel matrix can be expressed in terms of the non-centered version.
Denoting the mapping from input space to feature space by

, the centered square kernel matrix

(with dimensionality

)
can be expressed in terms of the original matrix

as follows:

Additionally, let

be the

test matrix describing the similarity between a

test instances with

training instances
(defined by a

kernel matrix

), the centered testing set kernel matrix is given by

Definition at line 41 of file ZeroMeanCenterKernelNormalizer.h.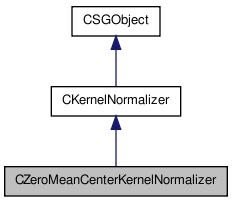 [legend]
---
Constructor & Destructor Documentation
---
Member Function Documentation
| | | | | | |
| --- | --- | --- | --- | --- | --- |
| virtual const char* get_name | ( | void | | ) | const [virtual] |
| | | | | | |
| --- | --- | --- | --- | --- | --- |
| virtual bool init | ( | CKernel * | k | ) | [virtual] |
---
Member Data Documentation
---
The documentation for this class was generated from the following file: