---
Detailed Description
the class HessianLocallyLinearEmbedding used to preprocess data using Hessian Locally Linear Embedding algorithm described in
Donoho, D., & Grimes, C. (2003). Hessian eigenmaps: new tools for nonlinear dimensionality reduction. Proceedings of National Academy of Science (Vol. 100, pp. 5591-5596).
Stated eigenproblem is solved in the same way as in CLocallyLinearEmbedding (LAPACK or ARPACK if available).
The hessian estimation step is parallel and neighborhood determination too as in CLocallyLinearEmbedding.
Be sure k value is set with at least 1+[target dim]+1/2 [target_dim]*[1 + target dim], e.g. greater than 6 for target dimensionality of 2.
Definition at line 43 of file HessianLocallyLinearEmbedding.h.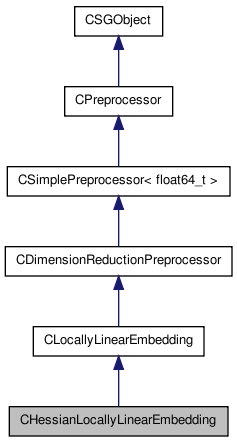 [legend]
---
Constructor & Destructor Documentation
---
Member Function Documentation
| | | | | |
| --- | --- | --- | --- | --- |
| void cleanup | ( | | ) | [virtual] |
| | | | | | |
| --- | --- | --- | --- | --- | --- |
| virtual const char* get_name | ( | void | | ) | const [virtual] |
| | | | | | |
| --- | --- | --- | --- | --- | --- |
| void * run_hessianestimation_thread | ( | void * | p | ) | [static, protected] |
---
The documentation for this class was generated from the following files: