---
Detailed Description
the class LocalTangentSpaceAlignment used to preprocess data using Local Tangent Space Alignment (LTSA) algorithm as described in:
Zhang, Z., & Zha, H. (2002). Principal Manifolds and Nonlinear Dimension Reduction via Local Tangent Space Alignment. Journal of Shanghai University English Edition, 8(4), 406-424. SIAM. Retrieved from http://arxiv.org/abs/cs/0212008
The stated eigenproblem is solved in the same way as CLocallyLinearEmbedding (LAPACK or ARPACK if available).
The local tangent space alignment step is parallel. Neighborhood determination is parallel as in CLocallyLinearEmbedding.
This algorithm is pretty stable for variations of k parameter value but be sure it is set with a consistent value (at least 3-5) for reasonable results.
Definition at line 45 of file LocalTangentSpaceAlignment.h.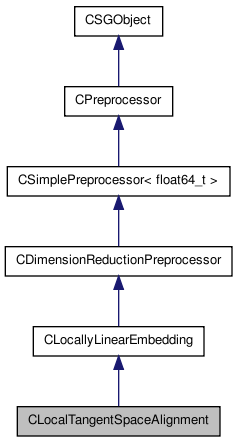 [legend]
---
Constructor & Destructor Documentation
---
Member Function Documentation
| | | | | |
| --- | --- | --- | --- | --- |
| void cleanup | ( | | ) | [virtual] |
| | | | | | |
| --- | --- | --- | --- | --- | --- |
| virtual const char* get_name | ( | void | | ) | const [virtual] |
| | | | | | |
| --- | --- | --- | --- | --- | --- |
| void * run_ltsa_thread | ( | void * | p | ) | [static, protected] |
---
The documentation for this class was generated from the following files: