---
Detailed Description
Preprocessor SortWordString, sorts the indivual strings in ascending order.
This is useful in conjunction with the CCommWordStringKernel and will result in the spectrum kernel. For this to work the strings have to be mapped into a binary higher order representation first (cf. obtain_from_*() functions in CStringFeatures)
Definition at line 29 of file SortWordString.h.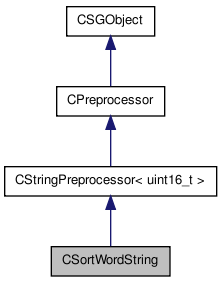 [legend]
---
Constructor & Destructor Documentation
---
Member Function Documentation
uint16_t * apply_to_string
(
uint16_t *
f,
int32_t &
len
)
[virtual]
| | | | | | |
| --- | --- | --- | --- | --- | --- |
| bool apply_to_string_features | ( | CFeatures * | f | ) | [virtual] |
| | | | | |
| --- | --- | --- | --- | --- |
| void cleanup | ( | | ) | [virtual] |
| | | | | | |
| --- | --- | --- | --- | --- | --- |
| virtual const char* get_name | ( | void | | ) | const [virtual] |
| | | | | | |
| --- | --- | --- | --- | --- | --- |
| bool load | ( | FILE * | f | ) | [virtual] |
| | | | | | |
| --- | --- | --- | --- | --- | --- |
| bool save | ( | FILE * | f | ) | [virtual] |
---
The documentation for this class was generated from the following files: